What is Menikmati exactly?
Before talking about the éS Menikmati capsule collection, there is one question I know many of you have always wondered, what does Menikmati mean? It is an Indonesian word that means "Enjoy". What has that got to do with skateboarding I hear you ask disappointedly… Well, read on and all will become clear, although it's basic premise seems pretty self-explanatory.
When I started writing this blog post I sit down and just started brain dumping my '90s nostalgia into my computer, I was thinking about things, like the golden era in skateboarding and all the things that made this (small) period in time so special for anyone privileged enough to be involved in skateboarding during it. Then, after a while, it suddenly dawned on me that many people who will read this post, or at least land on it from a google search, may not have the slightest idea what Menikmati was/is and why it is so important (to me).
So, I am going to rewind right back and start with somewhat of a history lesson.
The beginnings of éS Footwear
I started skateboarding around the spring of 1994, I mean I had been around it for longer, brothers and older friends were into it so my friends and I had mags to look at and sometimes we were shown videos. I even had some "toy" skateboards when I was a bit younger, but it wasn't until 1994 that I got a proper skateboard. I was instantly hooked on it and so I spent all my pocket money on magazines (there was no internet in 1994!) and skate videos.
At some point, I ended up with a  copy of Girl Skateboards Mouse, I remember at first I didn't really like it much, looking back I realise that was due to the fact that the skateboarding in that video was so advanced I had to watch it a lot before I even knew what they were actually doing. I don't think I even noticed that a lot of it was switch for a long time. I remember my favourite part was Eric Koston's, as I am sure it was for most people at that time… or maybe Guy's. But the one thing I remember other than being blown away by what he was doing was that he had these super "dope" shoes on and I had no idea what they were.
As it turns out Sole Technology, the parent company behind Etnies shoes had launched a sister brand the year before (1995) called éS Footwear. It just shows how much more slowly things happened back then without social media, as I hadn't even heard of it when I was watching Mouse in 1996 a year later… Gen Z take note! It wasn't until 1997 that we actually worked it out, as spring of that year marked the launch of the éS Koston 1 of which one of the first colourways was the classic black/gum (yes that one!), which Eric was wearing when filming for Mouse.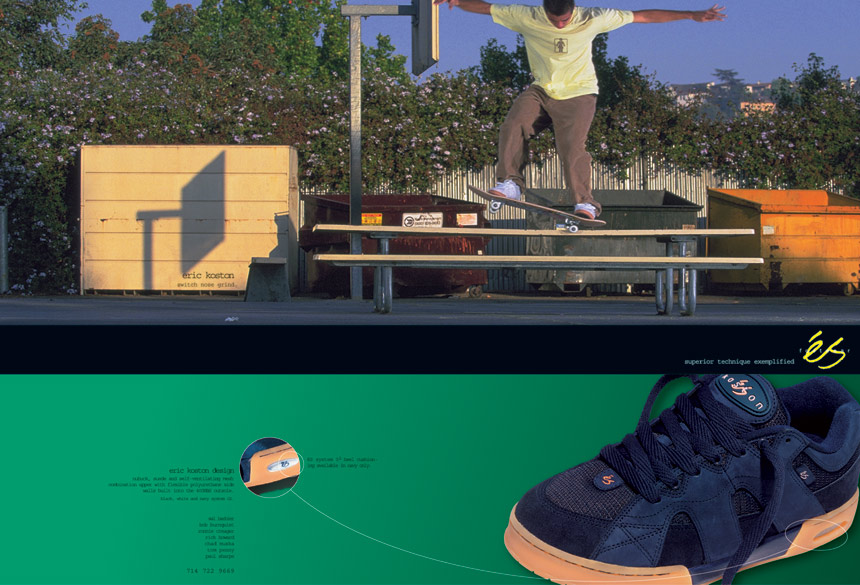 This really got my attention as it did, it seems, many others. It also highlights what I really loved about this era in skateboarding. Because there was not really the internet (as in the vast resource of information we know today) nor was there any social media at all, finding out about this sort of thing really took some effort. Think about it, you really had to dig to consume skateboarding back then and that made every part of it even more special. It's actually crazy when you think back to how it was and compare it to the relentless noise we sift through on a daily basis these days. There was no sitting on your couch thumbing endlessly through your social feeds, nor did you have an infinite library of skate videos archived and made searchable for you by Youtube.
No, you actually had to leave your house, you had to go to a skate shop (if there was one in your town) and buy a magazine or a skate video. It's hilarious really, 411 only came out every two months and for a number of years, aside from company video releases, this was the only skate footage you could see all compressed into an hour-long VHS tape. What made all of this even harder was the fact that skate stores didn't always carry all the videos or magazines, or they might have sold out by the time you had the money to spend on them. So you would end up sharing them with your friends, I remember a great example of this: I had a copy of Mouse, but my friend had the only copy, in our group, of Toy Machine's "Welcome to hell". So we would have to get together to watch them or do swaps, this was a really positive thing socially that was specific to skate communities, and was key in forging friendships.
The éS Manikmati skate video
éS spent the next 10 years growing at a rapid pace and we continued to follow what they did, where we could. They steadily built an amazing skate team featuring guys like Chad Muska, Bob Burnquist, Rodrigo TX, Tom Penny, Ronnie Creager, Arto Saari and of course Eric Koston and continued to release awesome footwear that people still talk about today. It was a simple, but powerful formula that many companies these days would do well to take note of, they had the best team and the best product. Sounds like a basic concept, but in skateboarding having these stars align is not always as easy as it sounds. Nonetheless, éS had it nailed and this momentum rapidly grew the popularity of the brand and propelled them to be one of the defacto technical skate shoe brands on the market. Having this era-defining team of skateboarders also set the foundation for the Menikmati video.
After a period of intense filming and touring, the éS Menikmati skateboard movie was released in 2000 to critical acclaim. The film really encapsulated that point in time for me, they had such an awesome mix of skateboarders, none were too alike, but all were amazing in their own way. I think that is what made Menikmati such a successful skate movie, you literally had something for everyone. There was, of course, technical street skating, as that was a theme of the time, but you also had the mind-blowing vert skating of Bob Burnquist and the bone-crushing rail destruction of Arto Saari.
It wasn't just the skateboarding that was appealing to me either, everything about the style of it was alluring. I am talking about things like the way the video was edited, the music, the clothes they were wearing and the spots they skated.
What was also really cool was the fact that each skateboarder hailed from a different part of the world, a point that is highlighted in the film. This is where the Indonesian translation comes in, although they could have picked any language in which to translate the word "enjoy". The point that was being made is that not only is skateboarding something that fundamentally brings enjoyment to so many people, but it is multicultural and transcends borders and cultural differences. This is something that could not be more relevant in the world today, as we see the need to come together and accept people of different cultures more than ever. Menikmati was not only ahead of its time as a skateboard film but also as a concept of inclusivity. This is something which luckily for us, for the large part, is inherent in skateboard culture.
The éS Menikmati Skate Shoe Collection
This year marks the 20th anniversary of the éS Menikmati video and, true to form, éS has released a shoe to commemorate the milestone. This capsule collection features a small collection of shoes featuring the popular Silo and Accel Slim models that are inspired by the film and tap its look and feel for cues to inspire the design of the shoes. As such all feature the classic black, white and red colour pallet that was synonymous with éS' aesthetic at that time that was so obviously present in the video. In addition, there is the classic "map" graphic that was the backbone of the storyboard from the video as a subtle detail that ties back to the original concept.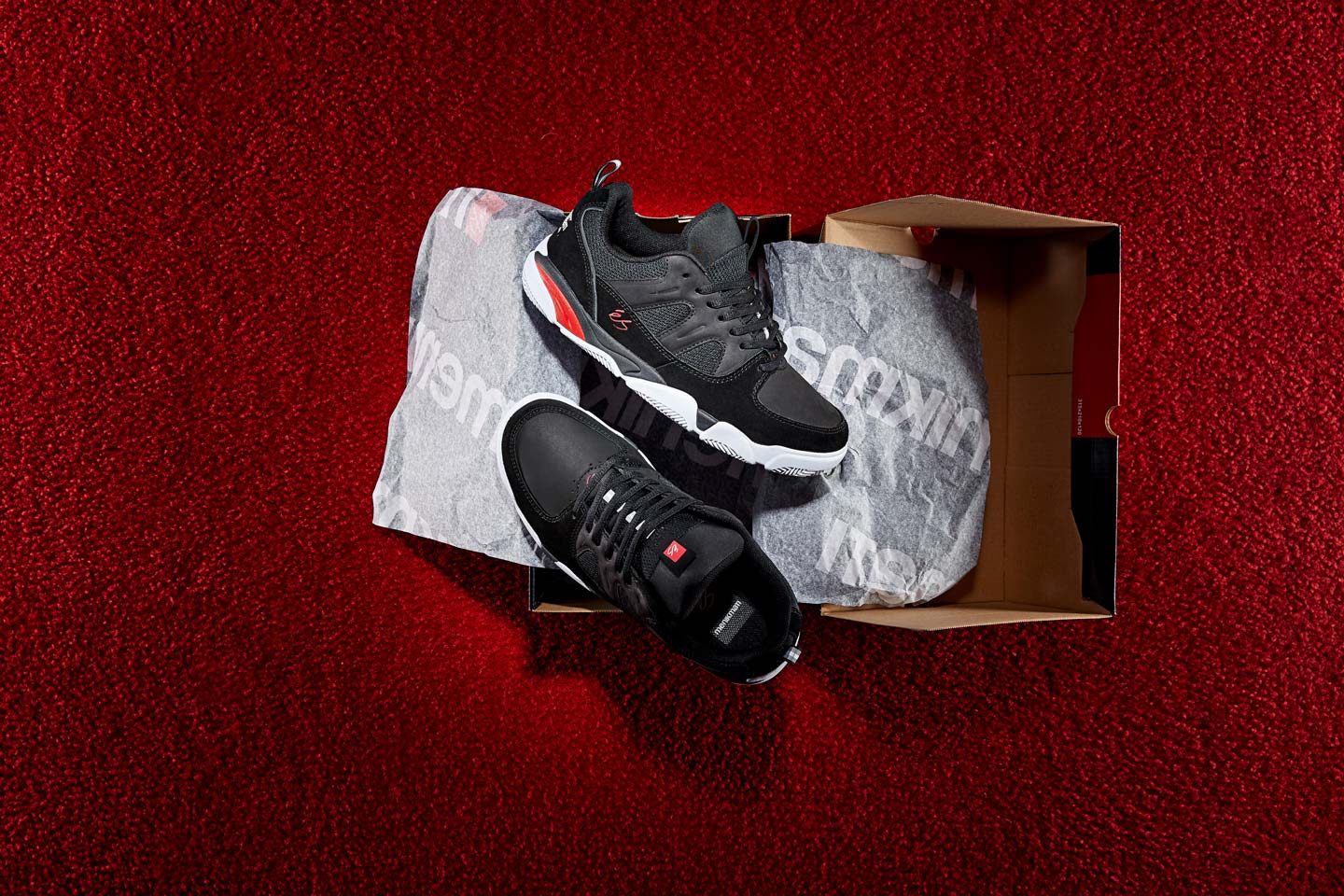 The éS Silo isn't exactly a reissued style, more so a new shoe that has been designed using the distinctive éS DNA and taking cues from past success stories like the Scheme and Symbol styles. The sole unit is a contoured cemented cupsole unit with an EVA midsole in black with red hits and compliments the white rubber outsole perfectly. This is married to an upper that is made up of a mix of materials all having a specific purpose. The suede toe cap provides that perfect feel when ollieing and flipping your board, while the mesh underlays offer breathability to keep your feet airy even during intense sessions.
As noted earlier in this post, each shoe exhibits the "Menikmati Map" graphic to denote its inclusion in the collection. The Silo has it placed on the heel quarter which is quite a prominent position and cmploments the balance of the upper design.
The éS Menikmati Accel Slim
The éS Accel Slim skate shoe is a reworking of their all-time classic and best-selling shoe, the Accel OG. This shoe was a staple for many years and continues to be a best seller. The slim version was born as a result of the skate team requesting the shoe in a more slimline version that can be worn with slimmer jeans and pants. The Accel Slim Manikmati version again features the black, white and red colour pallet, but uses it in a different way to the Silo. It is less monotone and uses white underlays to contrast against the black suede overlays and toe cap. This makes this shoe quite striking.
Like the Silo the Accel Slim also features the "Menikmati Map" graphic, this time placed on the lateral side of the heel quarter. This creates quite a different vibe and works really well with the contrast black and white panelling. The shoe is finished with classic red pop details that runs as a theme through the collection.