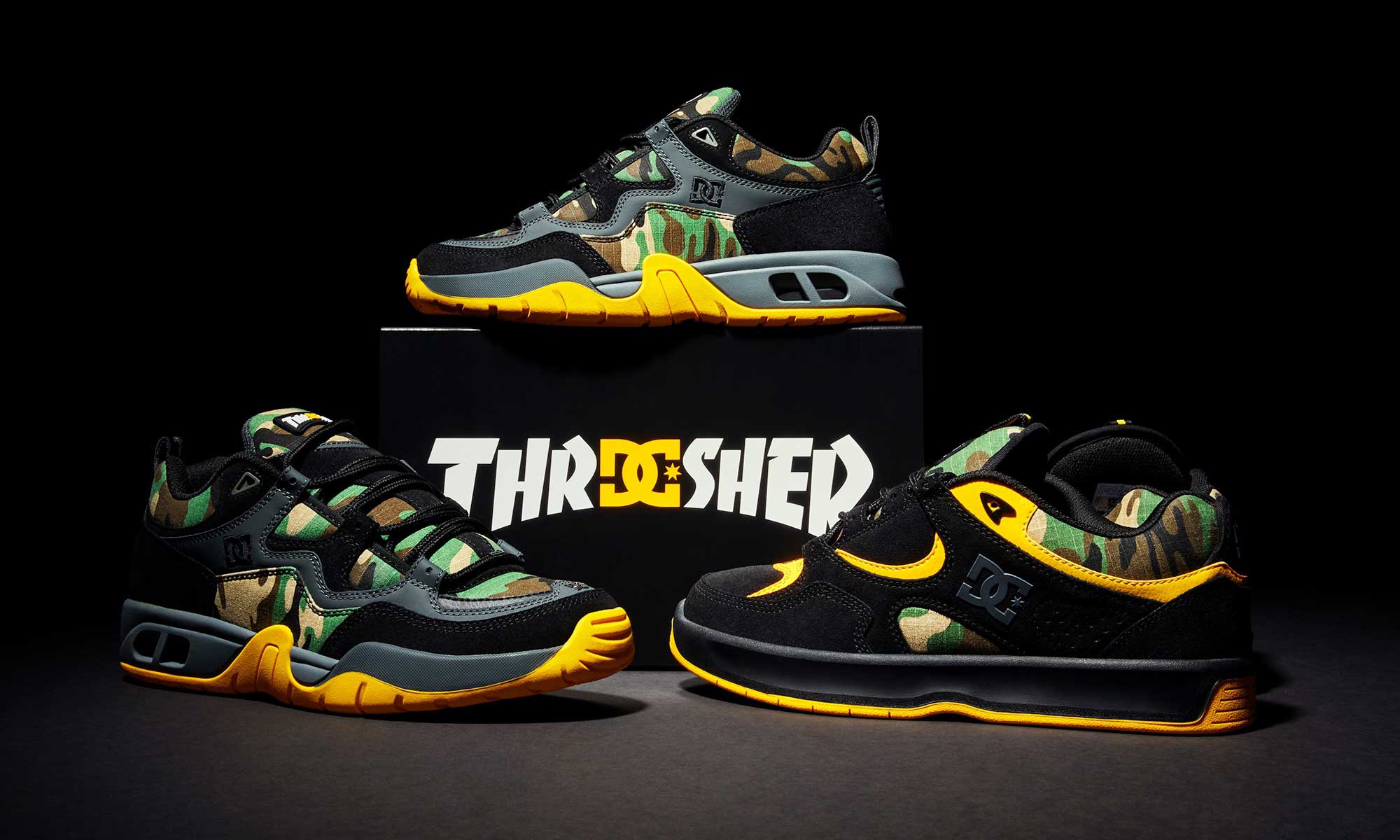 Josh Kalis is easily one of the biggest names in modern skateboarding and has been since the '90s. Not many people can say that! This year marks his 25th anniversary being on DC Shoes and they have joined forces with Thrasher Magazine to help celebrate. This is obviously a pretty colossal collaboration between some of the most influential giants of the skate industry and something we are incredibly proud to be able to get into the warehouse here at Supereight!
Josh first entered the scene in the '90s, but it was his Heavy Metal part for Toy Machine in 1995 that really set him apart from the rest. His style and trick selection throughout the part was exquisite, even throwing in some foreshadowing of what was to come from him with a huge tre flip over a bin from the tiniest of bumps in a car park. Just to put that into perspective, I was born in 1995 and I often feel old. Josh has been crushing it throughout my whole existence on this planet and still shows no signs of slowing down anytime soon.
Thrasher Magazine needs very little introduction. If you skate, chances are you have flicked through a couple in your time, and even if you don't skate, you've almost definitely seen a t-shirt or hoodie with the infamous Thrasher logo on it.
Often referred to as 'The Bible', Thrasher was founded in 1981 by Fausto Vitello and Eric Swenson, and is now the longest-running skate magazine in the industry. In 1993 Jake Phelps came aboard as the editor of the mag and from there on out, the ethos of Thrasher that we all know and love was created.
The colourway theme for this collaboration capsule is inspired by Josh's last cover for Thrasher in September 2018. The cover was shot at the Thomas Paine Plaza, aka Muni, with Josh doing a rad nose blunt in the foreground of all of the huge illuminated Philly buildings surrounding him. Wearing Kalis Lites and some classic camo pants with a huge yellow Thrasher logo behind him, it is easy to see where the inspiration came from for this very special drop!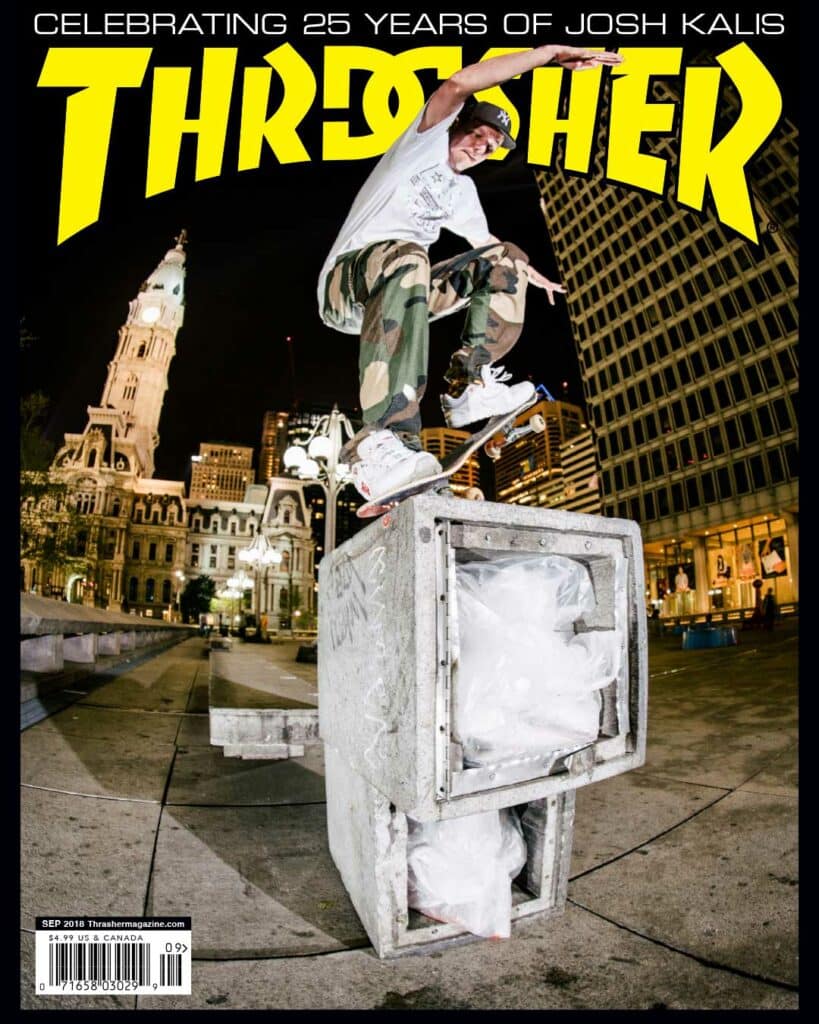 The Apparel Capsule
This capsule consists of two shoe silhouettes, a vest and a hoodie. All of which – bar the vest – feature black to depict the night sky on the cover, golden-yellow for the Thrasher logo and camouflage details representing Kalis' trousers in the photo, and I imagine just his sheer love for camo clothing. The vest still holds down the golden-yellow and black colours, it just didn't need the camo, especially when the hoodie is basically totally camo from top to bottom.
The Truth OG
The two shoe silhouettes in this collection are a pair of absolute belters! Starting with the newly reintroduced and highly-revered Truth OG. This is only the second colourway release since its phoenix-esque rebirth this year. Featuring black suede panels on the high-abrasion areas combined with camo canvas mid-panels all merged with black and yellow Thrasher and DC branding, sat atop a black and yellow sole unit. I am yet to see this colourway out in the wild yet, but I have seen the Navy/White colourway released a few weeks ago and they look sweet! I'm not one for puffy cup soles personally, but these had me rethinking my whole wardrobe.
The Kalynx Zero S
The Truth OG may have only been reintroduced recently, but the other silhouette in this drop has never been seen before! Josh's two favourite silhouettes from DC are the Kalis Lites and the Lynx Zero S's, so it only makes sense to merge the two and create the perfect shoe for him. DC has done this by taking the uppers from the Kalis Lite and placing it on the Lynx Zero S sole unit, thus creating the Kalynx Zero S. This amalgamation has effectively taken the Kalynx from last year and slimmed it down ever so slightly on the sole unit, improving board feel and giving the silhouette a slightly sleeker aesthetic.
If you were to ask me to imagine a collaboration between DC Shoes and Thrasher Magazine to celebrate the 25th anniversary of Josh Kalis being on DC, I honestly would have no idea where to begin. Luckily, I'm never going to pursue a career in shoe or clothing design. Even luckier still, the people over at DC and Thrasher obviously have this talent in abundance. This capsule perfectly encapsulates Josh's longevity within the scene with his instantly recognisable aesthetic. I know I said it at the beginning of this blog, but we are so happy to be able to stock such a sick collab and hope there are more to come!