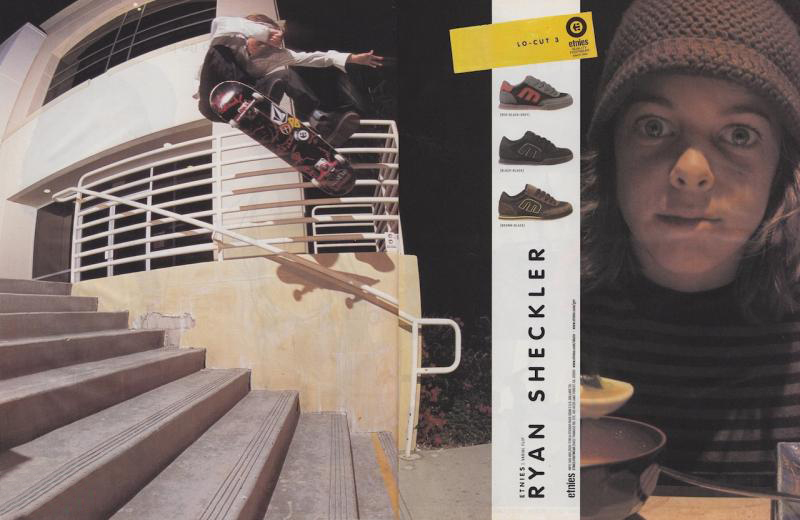 Skateboard footwear has a long and colourful history, when we look back from where we are today we have seen many changes over the years. One brand that has seen more of these changes than most is Etnies, a brand that has a long history in skateboarding dating all the way back to 1986 when it was launched by ex-pro Pierre André Sénizergues. One of the original skate specific footwear brands launched in the 1980's alongside Airwalk and Vision Streetwear, Etnies is still going strong and proud to still be independently owned. That is no small feet given today's landscape, which has evolved so much since the rise to popularity of skate shoes in the late '90s. As the market evolved, so did the Etnies product, which has resulted in a large back catalogue of shoes that give the brand a rich heritage to lean on.
Recently it was decided to take this history and weave it into today's product offering dubbing it "future heritage", the concept is to take iconic styles from the back catalogue and reinterpret them for today's market. One of these styles that is key to the story is the Lo Cut, launched originally in the early 90's it quickly became one of Etnies most popular styles and was reimagined on different sole units in the Lo Cut 2, the Lo Cut 3 and the Lo Cut SC, over the years. For its place in the Future Heritage collection the Lo Cut has been taken back to the design ethos of the original using a simple cupsole unit and using the original stylised "E" logo placement.
We reached out to Etnies footwear designer Rick Marmolijo to get the inside scoop on reworking the product and what goes into the process from a designers perspective.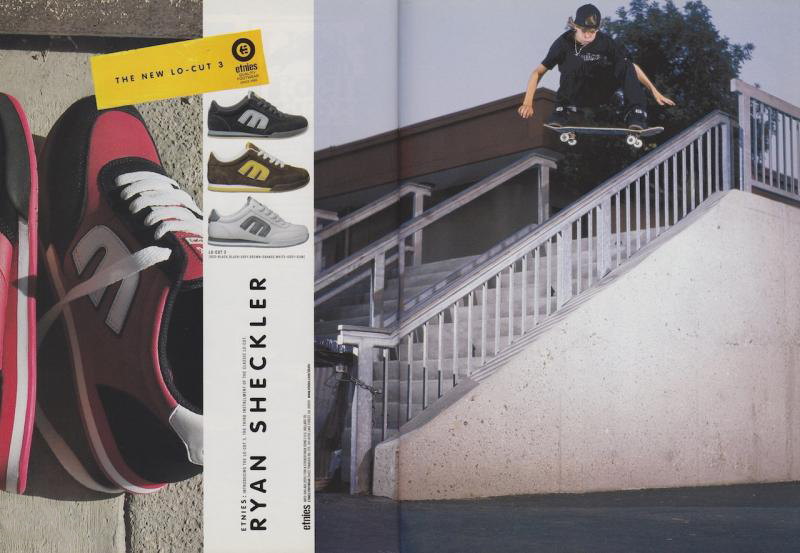 Hi Rick, can you tell us a bit about who you are and what your back ground is with Etnies?
I am the Design Director for Etnies, which means I design, develop, merchandise, color and materialize the whole Men's, Women's and Kid's line. I try to make the best possible collection each season for our global market. My background has always been involved with skateboarding so it truly helps to be able to design and understand performance shoes. 
So you were involved with bringing the infamous Lo-Cut back to life and into the present day, how did that come about, I mean it is part of a bigger product narrative with Etnies right now, how does it fit into the brands product road map?
Aside from the Etnies MC Rap, the Lo-Cut has always been that iconic shoe that every influential skateboarder has put on their feet back in the day. Growing up, I vividly remember watching skate videos of some of my favorite pros wearing that model. That Stylized "E" definitely stood out from a distance. That era has always held a special place in my heart. Because we saw the trend of modernizing the retro look from outside our industry and since Etnies has a rich history of footwear models, it was time to retool The Lo-Cut. Within our 4 divisions of Etnies, we have the Future Heritage Collection where we take some of our classic models and modernize them with cleaner lines and panels. The  Lo-Cut fits perfectly.
What technical challenges did you face when embarking on the project? Did you leverage any new technologies? 
Not much really since it's such a clean classic shoe. We actually constructed the midsole to have an egg crate of rubber for impact absorption as well as having amazing board feel.
Can you elaborate more on what it takes to build a shoe these days vs the first incarnation of the Lo Cut?
If you remember the original Lo-Cut, it was a super bulky with lots of padding on the tongue and collar. Because the skate trend back then consisted of size 40 New Deal pants and XXL shirts, the whole market was flooded with that type of silhouette. The consumer today is so fashion conscious that everything has slimmed down from shirts to pants. The Lo-Cut is built on a slim last with minimal tongue and collar padding to adapt to today's fashion.
How important are the material stories on a retrospective project, obviously it is tempting to do the classic re-run colourways, do you find it hard to break out of that and move forward when you know it's the retro look that buyers are expecting?
I think when you try to distance a retrospective project from the original, it starts to loose it's iconic identity. What people remember about the Lo-Cut is the suede material, the cup sole construction and the Stylized "E." I also realize that kids today were born after that era so they have no idea what that Stylize "E" represents. By making the shoe on trend and skateable, kids want to wear it because it's a nice looking shoe with a great silhouette. 
How much, if any, input did your athletes have on the updated design?
They had some for sure. Our team generally loves the way a one piece suede toe vamp skates because of the way it flicks. I still wanted to tie back the design to the "T" shaped toe cap, but updated it to a stitch detail so the team can still have that one piece toe construction. I've also been getting requests for more cupsole styles. I think our team is looking for more cushion and support that you don't generally get from a traditional vulcanized construction.
Do you have anything in the pipeline you can share with us?
For Spring 2016 we have an exciting new model that follows up the successful Marana called the Marana XT. It's a more slimmed down version of the Marana that has more exposed Evolution Foam to make the shoe very lightweight. We're also introducing a new PU Flow molded toe cap that is super indestructible. Keep a look out!