I have been skateboarding since around 2002/03 with most of the skaters around me being at least a good few years older than me. I have always felt very lucky to have had these 'elders' introduce me to aspects of the scene I perhaps wouldn't have focused on at a young age. One of the big things I was taught was to look back into the history of skating and do my research on the forefathers of modern-day skateboarding. So whenever a company like Santa Cruz releases a series of reissue decks, it is always an exciting time to be able to get my hands on these boards and examine the shapes and graphics of times past. So, what has Santa Cruz released? We have the Natas Kitten, Roskopp 3, Salba Baby Stomper and the O'Brien Purgatory decks. Let's have a further look at them then.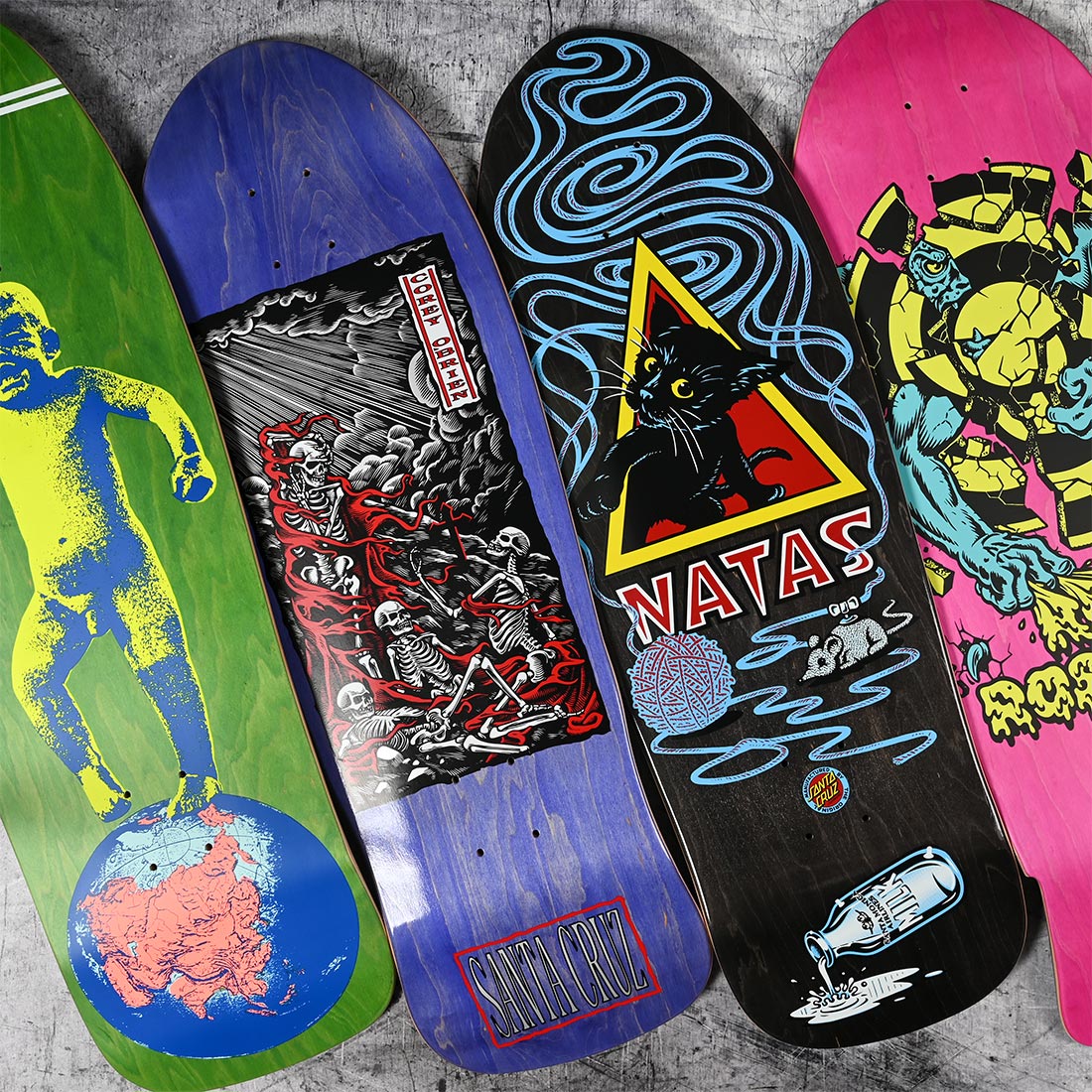 Natas Kitten
We will start off with the Natas Kitten deck, the smaller version of the iconic Natas Panther deck. Originally released in 1988, the Natas Kitten Deck has always been a favourite of mine. The idea of making a smaller version of the Panther deck and calling it the Kitten always seemed like a genius move. Basically the same shape, just scaled down for those smaller-footed groms that wanted to skate the Natas Panther board but struggled with the size of it.
It is funny to say that the 9.89" Kitten deck was the smaller alternative for the younger generation of skaters, but that was definitely an improvement from the 10.5" Panther deck. Alongside good friend, Mark Gonzales, Natas was pioneering street skating as we see it today. Introducing tricks such as slappy's, wallrides and of course, the Natas Spin. There is no wonder there was such a demand for a smaller version of his infamous Panther deck. In fact, the co-owner of Supereight Nick has a 1989 version of the Kitten deck from when he was a child, hung up next to his desk here. He actually compared the reissue to the original, stating:
"Most obviously, the truck hole settings are the more modern spacing (since 1992), with front truck holes appearing slightly lower down the nose. The modern deck has thinner ply, keeping it lighter than its aged sibling and has a slightly mellower concave, making it a less severe over the tail."
The two boards are incredibly close to one another shape-wise, with the most notable difference being the ply thickness. It's nice to know what you are purchasing is virtually the exact same, aside from minor differences caused by an improvement in technology.
Rob Roskopp 3 Deck
Next up we have the Rob Roskopp 3 deck, originally released in 1985 is the third rendition of the Target series from Santa Cruz. There are a total of 5 graphics in the Target series, all gradually depicting a huge creature gradually breaking through the target as seen in the first of the series (which just has a single arm breaking through it). The Roskopp 3 deck is the middle of the series, showing two arms now smashing through the target. According to Sean Cliver, in an interview he did for Transworld in 2005, he is aware of only one person with the complete, original set of this series in mint condition. I wonder if anyone else since then has been able to collect them all? Roskopp was a huge name in the '80s, featuring heavily in videos such as Speed Freaks, Streets on Fire and a few others. He is now a co-founder of Santa Cruz Bikes and is an avid fan of mountain biking, transferring his smooth yet powerful skate-style over to the mountains.
Steve Alba Baby Stomper Deck
Heading back over to the late '80s with the backyard pool king, Steve Alba, we have his Baby Stomper graphic which was originally released around 1989. After a little research online, this graphic was inspired by a sculpture found in Frogner Park in Oslo, Norway by an artist named Gustav Vigeland. The sculpture is named the 'Angry Boy', and I cannot speak on behalf of Alba regarding what it was that inspired him to use this sculpture as a graphic but I imagine I have looked similar to that when getting kicked out of spots in the past, so perhaps it could be something similar. Alternatively, it could be a message of the youth at the time being disenfranchised by the world around them. Who knows… Well, Alba does, but he isn't replying to my DM's.
Corey O'Brien Purgatory Deck
Last but not least is the Corey O'Brien Purgatory deck. A graphic I have always thought was cool. You can't really go wrong with the combination of strong biblical imagery mixed with darker things such as skulls or skeletons. It instantly creates a very strong image. This deck was originally released in 1990 after the success of O'Brien's legendary Reaper deck. O'Brien featured in a lot of Santa Cruz videos back in the day alongside the other pros previously mentioned here. The Reaper deck is still one of the most sought-after decks in the deck collector world, but the Purgatory deck was seen to be a more refined shape than its predecessor and was a more enjoyable skate due to it. Whenever we get these reissues, it must be said that the temptation to try these shapes out to skate myself is always so tempting. Corey was a ripper on transition, but would also dip his toes into the beginnings of street skating in videos such as Streets on Fire, you can see him doing some sick lengthy slappy board slides amongst other street clips.
All four of these decks are in their own right, legendary. These decks have managed to stay sought after for nearly 40 years, through a combination of great artwork, amazing skaters and a strong brand such as Santa Cruz being able to keep these designs elevated and in the skate scene for as long as they have been. I'm sure there are countless deck companies that would love to bring back graphics from the past, but for whatever reason aren't able to release them. For that reason alone, reissue boards such as this should be celebrated. There aren't many nods to the past in skating nowadays, (aside from bringing back tricks for a hot minute for them to return back into Room 101 shortly after they have been rinsed to death) so it is incredibly important for the youth to look back and see who opened the gates to the skateboarding we see today.