Spitfire Wheels and Last Resort AB have recently joined forces and released a full capsule, brimming with shoes, wheels and clothing. Although both of these companies are skater-owned and run, one is fairly fresh onto the scene, whereas the other is an absolute powerhouse with a long heritage. There is always something so cool about collaborations such as these, not only does it get more eyeballs onto Last Resort's logo and products, but it also re-establishes Spitfire's roots and core principles. In fact, before we delve into the collection, let's look at who Last Resort and Spitfire are…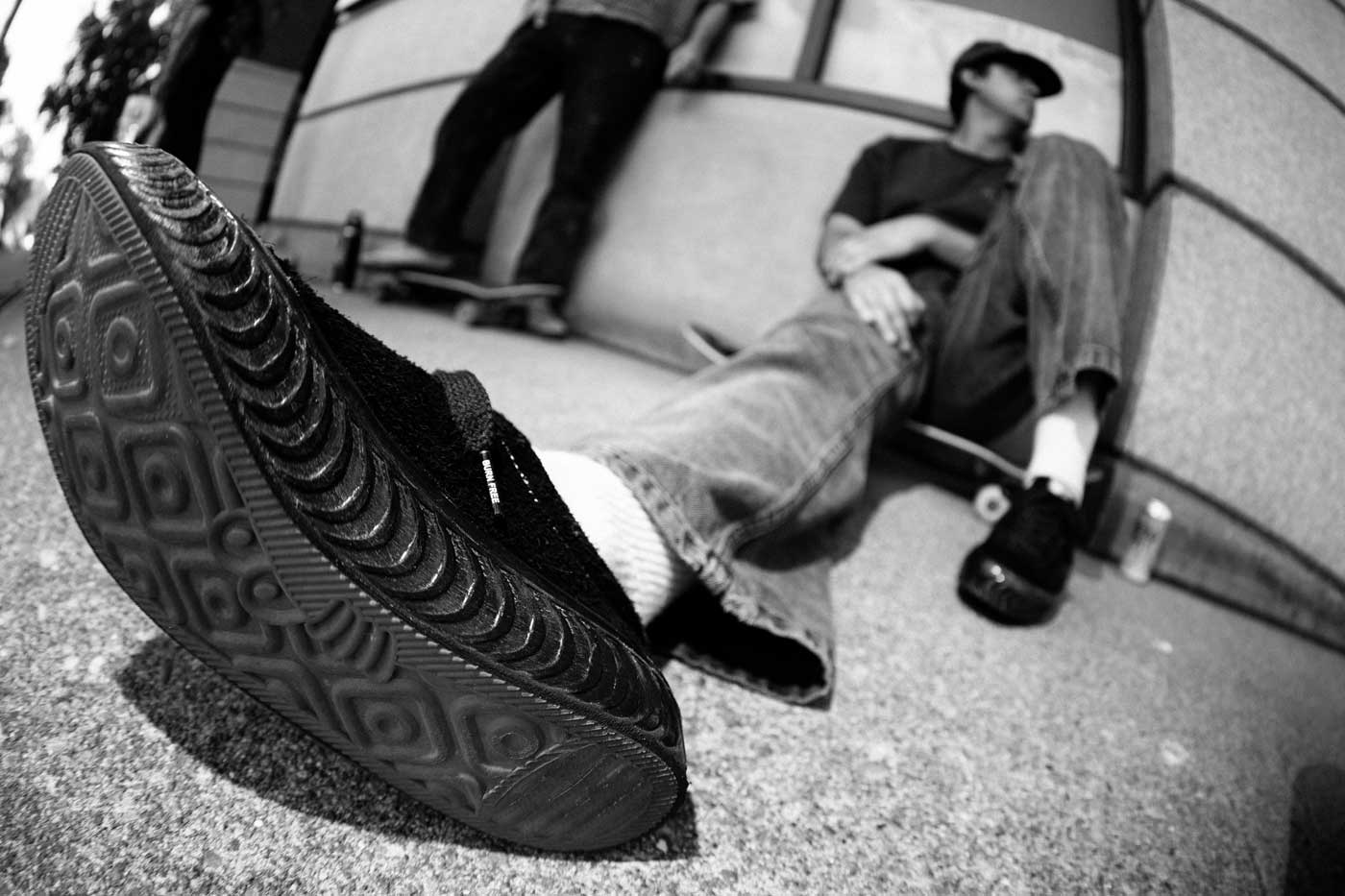 Spitfire Wheels, one of skateboarding's most recognisable brands
Let's start with Spitfire, possibly the most popular wheel company in the whole of skateboarding. Spitfire was founded in 1987 by Jim Thiebaud with help from the late Fausto Vitello. Their goal was to make the best skateboard wheels on the market, able to withstand punishment from rough street skating as well as to excel in vert skating. They achieved this by using nothing but premium materials and making sure it was all hand-poured and moulded in San Francisco, something they still maintain to this day.
Not only did Spitfire try to separate themselves from their competitors through their high-quality materials and construction methods, they also managed to create one of, if not the most recognisable logos in skateboarding. Kevin Ancell (who has a fascinating story himself, if you ever feel like looking him up) created the logo and hit the nail right on the head with the iconic Bighead logo. A lot of sharp edges combined with a mischievous smile seem to perfectly sum up the skateboarding psyche and resonate with many skaters. I have no idea if this is true, but I'd put money on it being the most tattooed logo in skateboarding!
In 1993 Spitfire dropped their first video imaginatively named 'Spitfire'. With the opening section belonging to John Cardiel and footage from skaters such as Jeremy Wray, Ed Templeton and Julian Stranger later on, you can already imagine how gnarly this video is before you've even laid eyes on it.
Since then, Spitfire has not slowed down on their quest to stay ahead of the curve in wheel technology. In 2013, they released the Formula 4 wheel, designed to be the hardest-wearing wheel on the planet, making flat spots a thing of the past. Something which every wheel company attempts to claim, but only a few actually achieve this… in my experience anyway. I have been skating Formula 4's for the past 8-9 years and I am yet to experience any issues, and the same goes for all of my homies who skate them too. There is a reason pros with no wheel sponsor skate Spitfires, they truly are the best.
Who are Last Resort AB?
Last Resort is yet to be able to claim to put in years upon years of research and to improve their products, purely because they have not yet been around for years and years. However, they are already proving themselves to be a company that not only listens to their customers but truly wants to make sure their product is as good as it can be. Something we will get into a little later.
Last Resort AB introduced itself to the world of skateboarding in 2020 by Pontus Alv and Sami Tolppi. Similar to Spitfire, Sami and Pontus wanted to create a shoe they truly believed in. After years of being on Converse Cons, Pontus became disenchanted with the products, truly believing he could make a superior product. After months of posting videos of the VM001 being wear-tested by machines, as well as making sure the materials and factories used were of the highest quality, the first drop was released and sold out basically everywhere. The hype was real.
However, once the dust had settled and people were putting the shoes through their own personal wear test, there was quite a lot of noise coming out regarding the quality of the insoles. Pontus himself admitted he liked the thin insole originally in the shoes, as he wasn't jumping down anything and enjoyed the supreme board feel. As the requests for an improved insole grew though, Last Resort heeded the advice of their customers and created the 'Cloud Cush' insole. Having skated both, the Cloud Cush is a definite improvement on the original insole, especially if you like to jump down things. That's not where the similarities end between Spitfire and Last Resort, for me anyway. Personally, I think the Last Resort logo is bloody brilliant, perhaps the best logo I've seen come out over the past ten years or so. That alone made me excited to see this collab, how were they going to incorporate two of my favourite logos?! Even I cringed whilst typing that, but it is true…
How does a wheel company collaborate with a shoe company?
Well, with wheels and shoes obviously! Oh, and a few lovely items of clothing too.
This drop has a lovely spread of shoes, T-shirts and wheels. Everything in this drop is subtly adorned with details from both Spitfire and Last Resort. The VM001 in this drop is a great example of this. All of the details at first glance are classic Last Resort designs, most notably on the tongue and on the heel. But once you have a proper look, instead of the two large eyes you are used to seeing, it's that cheeky Bighead logo peering over the wall, and the same goes with the tongue of the shoe. That's not where it stops either, the foxing around the shoe is scalloped in the same design you would see on the side of a Spitfire Classic wheel.
These scallop details run pretty much throughout this drop, and I can see why. It works so well! The long-sleeve T-shirt features scallops running all the way down the right sleeve with the Last Resort mascot peeping out on the shoulder of the sleeve. The black short-sleeve holds a similar theme with the classic Spitfire Swirl logo placed on the rear of the shirt, with, yep, you guessed it, those cheeky Last Resort eyes poking over the top.
Admittedly, these are such subtle details, but for those in the know, they are a real treat. This attention to detail runs through the whole collection, and the quality of the products is of the highest calibre too.
I'm not sure if it's just me, but it feels as though there are a lot of collaborations in the skate world at the moment. Some of which, without naming any names, suck. From the outside, it can appear some brands are just flogging a dead horse with a stick because they had the opportunity to do it. Don't get me wrong, there have been a good few to drop this year which are genuinely cool and hold a solid amount of legitimacy. This collab is one of the good ones, easily my personal favourite from this year. It exudes the feeling of two companies that not only understand each other's ethos but also truly want to collaborate and make something rad for their fans.