When I interviewed Jason Celaya (the owner and main artist for Welcome Skateboards) at the tail end of last year, it was clear that music is not only a huge part of his personal life, but also an incredibly integral part of Welcome's whole ethos too.
When everyone here at Supereight noticed that Welcome was going to be dropping a collab with My Chemical Romance, we were all a combination of shocked and hyped. However, once we had calmed down and stopped arguing about which deck had the best graphic/which album was MCR's best, we agreed that if any board company was going to pull this off, it would be Welcome Skateboards!
Welcome and MCR originally positioned themselves to be championed by the outsider within both of their respective industries. Although they still are very much for the fringes of society, both have now transcended their niche and have become huge forces within their own rights.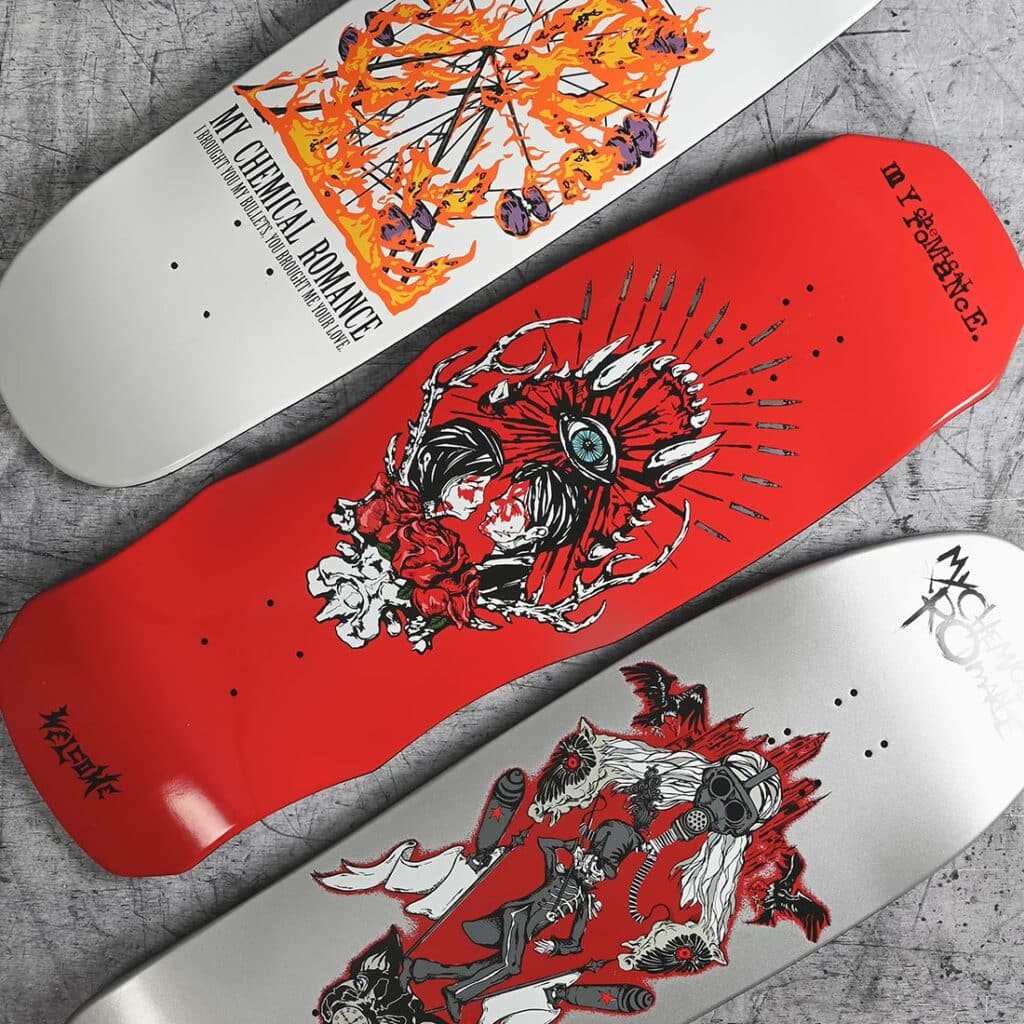 Welcome – Skateboards for the outsider
Welcome made a name for themselves by purely creating and selling shaped decks in a climate that was then 99% popsicle based, distancing themselves from the 'cookie cutter' scene of handrails and stair-sets and instead investing their efforts into the creative side of skateboarding. Putting dudes like Jordan Sanchez on the team is a great example of this. Jordan was a skater that a lot of people would have never known about if it wasn't for Welcome believing in him, and on the flip side, Welcome wouldn't have become as successful if it wasn't for himself and the rest of the team at the time.
Nowadays, Welcome is one of the biggest names in skateboarding. It wasn't just the team that set Welcome aside from the rest though, Jason's art was always so brilliant and different from the rest. Steering clear of basic logo graphics, Welcome decided to maintain a generally beautifully eerie, occult vibe to their designs which has served them incredibly well over the years.
My Chemical Romance – Music for the outsider
My Chemical Romance is very similar in this regard, although arguably they have done it tenfold. They first released I Brought You My Bullets, You Brought Me Your Love in 2002, within a music scene that was not only pretty niche but also abundant with people that were definitely not interested in chart music. Then, in 2003 after playing loads of gigs throughout New Jersey they found themselves signing for a much bigger record label and began recording Three Cheers for Sweet Revenge, which was still very much emo just slightly less post-hardcore and slightly more pop, with a cleaner sound throughout. This album was huge, and to be honest, my gateway into MCR when I was a kid, as it was for most of my generation.
I love Bullets, but don't get me wrong, Three Cheers (and my friend Jack) was definitely where it all began for me. From there on out MCR grew and grew, eventually releasing The Black Parade in 2006, which was absolutely enormous. "Welcome to the Black Parade" for example reached No. 1 in the UK Charts. From obscurity to being one of the most listened-to bands in the world, MCR (similarly to Welcome) really did transcend their niche and found themselves heralded as one of the biggest and best in their industry.
This is a big reason why this collab is so rad, both Welcome and MCR set the tone for what was to come in their respective fields through a perfect mixture of originality and skill. The originality doesn't stop there though, it's as clear as day within this drop as well! Usually, when a band collaborates with a skate company they just whack an album cover on the deck and run it. Not Welcome though, Jason had to add his classic flare to the graphics and it has made this collab very special. It feels like a genuine collaboration between both entities and not just a "yeah I guess this will make some sales" kinda deal.
Three boards for three albums
So, let's look into the three boards we have from this drop! The boards in this collection are all inspired by the three albums previously mentioned, combining the original album imagery with classic Jason Celaya artwork. Starting the Bullets iteration, Jason has taken the Ferris wheel shown on the back of the album and has made it his own adding more detail and colour, including silver foil hits to the original image. This is on Welcome's Antheme shape and 8.8" wide.
Obviously, after Bullets, MCR released Three Cheers, which featured a blood-covered couple about to kiss on the album cover. This couple has now been placed on Welcomes Dark Lord deck shape and again, adorned with Jason's art. Surrounding the bloody couple there are roses, tusks, teeth and an eye. All imagery you can easily find throughout Welcome's back catalogue of graphics throughout the years.
The Black Parade holds a fairly minimalist album cover compared to the other two, but it did have a marching skeleton in parade gear, which is exactly what Jason has used for the board (Welcome's Gaia shape). Similar to the bloody couple, the skeleton is the centrepiece of the design adorned with vultures, gas masks, missiles, flags and horses. It got to be said that Jason's dark imagery really fits well with the vibe of MCR. All three of these decks have been finished to the highest standard, using silver foil within the graphics, all fully dipped and have rad top graphics which again, depict imagery from their respective albums.
When you look at these boards, it is so abundantly clear that Welcome was the perfect company to collaborate with. No one else in the skateboarding world could have maintained the theme of MCR whilst successfully incorporating their company's own vibe too. It helps that they both originate from the darker depths of their scenes, sure. But that's why this has managed to become one of the coolest collabs we have seen in a very long time, Jason has managed to make something pretty much totally original but also instantly recognisable at the same time. Similar to how both MCR and Welcome became so well-loved in the first place!
Listen to "I Brought You My Bullets, You Brought Me Your Love"
Listen to "Three Cheers For Sweet Revenge"
Listen to "The Black Parade"